Kids' Rooms
June 28, 2016
How To Design A Kids' Room That Will Grow With Them
Senior design editor Joel Bray shares decorating tips for kids' rooms.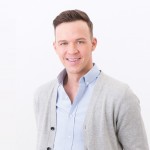 While putting together my "Ask a Designer" page for an upcoming issue of H&H, I came across a great project by Frances Merrill of Los Angeles-based studio Reath Design, which she designed in collaboration with online retailer The Animal Print Shop. I think this bedroom is a really charming example of children's decorating, and will age nicely with its occupants since it's neither too childish nor too grown-up. Here are some elements of this smartly-designed space that I really love, and just couldn't fit into my column (don't miss our September issue to see more!).
I love how Frances painted the entire room — windows, built-ins, baseboards and trim — a handsome shade of olive green. The matte finish feels fresh, and creates the perfect canvas to layer in more lively colors and patterns (just swap them out when the kids want a more mature look). You'll notice that nothing totally "matches" in this room, but everything still works well together. The warm red and purple tones of the rug help balance the deep green walls and bring a lot of life to the space.
Placed by the window and layered with pillows, blankets and teddy bears, this rattan swing is a nice spot for kids to read and relax. Plus, it has a breezy, indoor-outdoor look that's youthful — but not juvenile.
Adding open storage at a kid-friendly height is always a good idea, making it easy for children to access their things and put them away. But when they're really young, it can be nice to keep display items out of reach. This simple coatrack functions nicely as a high shelf — keeping artwork away from little ones — and will be a handy spot to hang hoodies and bags when they're older.
These framed prints by The Animal Print Shop are a great pick for kids' rooms. They feature all sorts of animals at various ages. Cute, yes, but their clean white backgrounds and frames are also sophisticated enough for older kids — or to hang in any room of the house.