Decorating & Design
August 30, 2021
A Small 1880s Townhouse Is Reinvented With Bold Design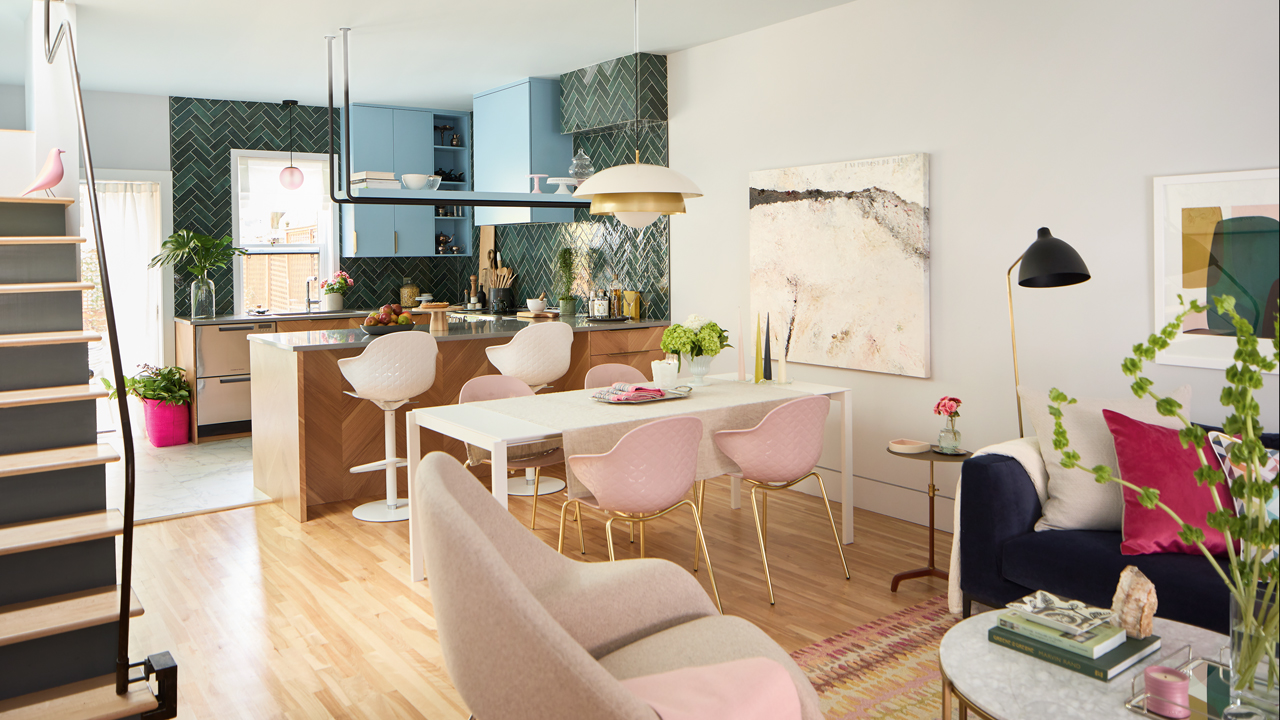 The total transformation of Sylvie Renaud's Montreal home started as a small refresh of the tired powder room and bathroom. But once the project began, it seemed like the right time to reconfigure the space and make it more open plan. She hired designer Jean Stéphane Beauchamp, whose work immediately resonated for its use of bold, happy colors. The two are neighbors, sharing a mutual appreciation for the European character of Le Plateau-Mont-Royal.
They began by removing the columns in the combined living–dining room. Then, the wall that enclosed the kitchen was taken down, making the space feel larger and setting the stage for a fresh palette. For the powder room, Sylvie produced a swatch of Thibaut wallpaper she'd been holding on to for years. "It's particularly bold, so I only used it sparingly," says Jean Stéphane, "but it guided all the other colors. The sofa became navy, the powder room, pink. It even influenced the backsplash in the kitchen."
Now open to the living–dining room, the kitchen has a colorful presence. For the lower cabinets, the designer chose white oak in a chevron pattern and refinished the existing hardwood floors to match. On the left side, full-height cupboards conceal a pullout pantry and stacked washer and dryer. The existing bronze-black stair railing inspired the rounded, tubular steel of the kitchen's open shelf and "creates a continuous architectural line," says Jean Stéphane.
The finished spaces are vibrant, space-efficient and now, at long last, tailored to its patient homeowner. "It was a pleasure, that year of designing and talking about the rooms," says Sylvie of her forever home, adding, "If there's a point where I can't get up the stairs, I'll put in an elevator!"
Scroll down to see more of this mood-boosting townhouse!
Photographer:
Maxime Desbiens
Source:
House & Home September 2021
Designer:
Jean Stéphane Beauchamp