Cottages
August 3, 2020
This Sweet Cottage Proves You Don't Have To Travel Far To Relax & Unwind
Some cottagers crave fast boats and never-ending parties, but not Eric and Caroline Bouffard — they enjoy lo-fi pursuits such as swimming, paddleboarding and kayaking. So, when the couple — she's an interior designer, he's an electrical engineer — searched for a getaway, they knew they didn't want a rowdy setting that drowned out the sound of the birds, or a cottage where flash trumped family. "We've dreamed about living by the water; I've always been drawn to it," says Caroline. A small lake with an old-fashioned name won their hearts. "There's something magical about Lake Libby," she says. "We saw the potential to set up a little paradise for the family," says Caroline of the crew that includes their sons, Justin, 23, and Marek, 15.
The chalet reboot was a mom-and-pop operation that was completed on weekends over the summer of 2018. Caroline infused the 1,060-square-foot space with her signature refined-rustic style. "I wanted everyone to enjoy the place without worrying about damaging anything or being messy," says Caroline, who often hosts her sister and her two children.
Scroll down to learn more about this quaint cottage in the Eastern Townships!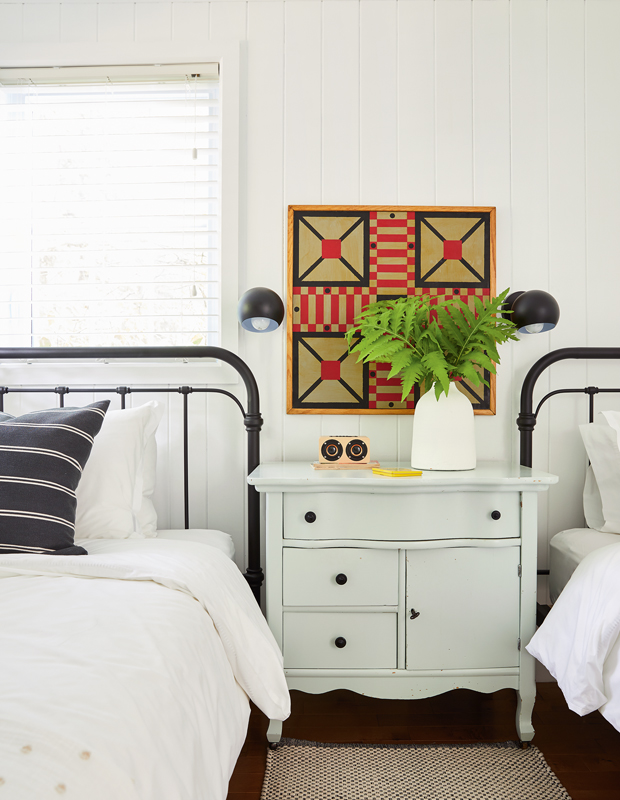 Photographer:
Maxime Desbiens
Source:
House & Home July/August 2020
Designer:
Caroline Bouffard