Decorating & Design
December 4, 2015
DIY: Chalkboard Christmas Tree
Senior design editor Joel Bray shares how to create an alternative Christmas tree. Read on for instructions or watch the video.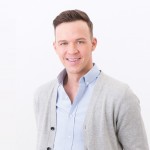 Decking the halls doesn't have to include bringing a towering evergreen into the house. If you want a modern festive feel without the mess, why not try a crafty approach to your tree this year? This wall hanging is sure to be a conversation piece — and it's especially great for small spaces or for anyone who plans to travel during the holidays. Best of all, when the season comes to an end, just roll it up and tuck it away! Here's how to make it:
Materials 
You'll need a canvas or heavy cotton twill, chalkboard paint, wood dowel, 2 hooks, staple gun, paintbrush, scissors, and chalk.
Step 1: Prepare A Piece Of Fabric
I started by cutting a heavy-duty piece of cotton canvas measuring 72″ h. x 46″ w. Rather than stretching the canvas on a frame (as you would for a painting), I kept it loose, making it easier to store. I frayed the canvas's edges for a handmade look.
Step 2: Paint It Black
Before you paint the fabric with chalkboard paint, spread it out on a dropcloth on the floor, in case any paint seeps through. I painted the canvas with two coats, leaving a 2″ border around three sides and a 6″ border at the top to allow room to attach the dowel. I painted it freehand to enhance the imperfect look. Chalkboard paint comes in many colours, but I like traditional black.
Step 3: Secure The Dowel
Once the paint dries, flip the canvas painted side down and roll the top around a 56″ l. x 1″ diam. dowel a couple of times. Then, staple along the back of the dowel every 4″ to keep the fabric smooth and secure. (This is faster and easier than sewing a rod pocket.)
Step 4: Draw The Tree And Hang It Up
Using white chalk, I drew a stark outline of a tree to create a stylized minimalist look. You may want to decorate your Christmas tree with everything from hand-drawn ornaments to a star on top. Use a damp cotton cloth to wipe away any mistakes. To hang it up, predrill two pilot holes in the wall about 47″ apart and about 7′ off the floor (so there's room to stack presents underneath). Screw the hooks into the holes and hang your new tree.
Photographer:
Angus Fergusson
Source:
House & Home November 2010