Decorating & Design
July 26, 2021
Step Inside A Charming Cape Cod-Style House In Chester, Nova Scotia
Chester holds a special place in Deb Nelson's heart. "It's an incredibly charming seaside village filled with classic historical homes and beautiful ocean views," says the seasoned designer and stylist Deb Nelson. "I've been coming here since I was a teenager, and I always wanted to have a place in the area." The picturesque village has been home to not one but three of Deb's dwellings — all within a few blocks of one another, and all gracing the pages of H&H. She sold her former house to buy two places: one in Halifax (where she often needs to be for work) and this one in Chester. "It's smaller and has a quiet location in the village, which made it appealing to me," she says. The modest three-bedroom, one-bathroom, which she shares part-time with her partner, Ken, puts her style on full display.
When she first saw this property on the market in 2017, it was proof that looks can be deceiving. Although the exterior of the Cape Cod-style house was cute and in fairly food shape, the dated and dark interior needed a lot of love. "My guess is that the house had last been renovated in the 1970s carpeted, so there was brown panelling, linoleum and lots of wall-to-wall carpeting throughout — there was even a carpeted wall upstairs," says Deb. Her renovation goal was simple: lighten, brighten and totally freshen up the space.
As a backdrop for her evolving collection of bits and bobs, Super White by Benjamin Moore creates the perfect blank canvas and coats just about every inch of the house. "I always go for white interiors with colors and texture added through art, accessories, rugs and a little of the unexpected," she says. "I love the character and uniqueness that antiques bring to a space." White high-gloss marine paint — an extra-durable alkyd paint that's used on boats — was applied to the upper level and porch floors and will ensure they look good for years to come.
Two summers ago, Ken and Deb bought a restored 1970 Boston Whaler Sakonnet and the mahogany-lined pleasure craft has been a game-changer. "We love getting out on the ocean every day in the summer if we can," says Deb. In Chester, life really is smooth sailing.
Scroll down to visit this charming East Coast getaway!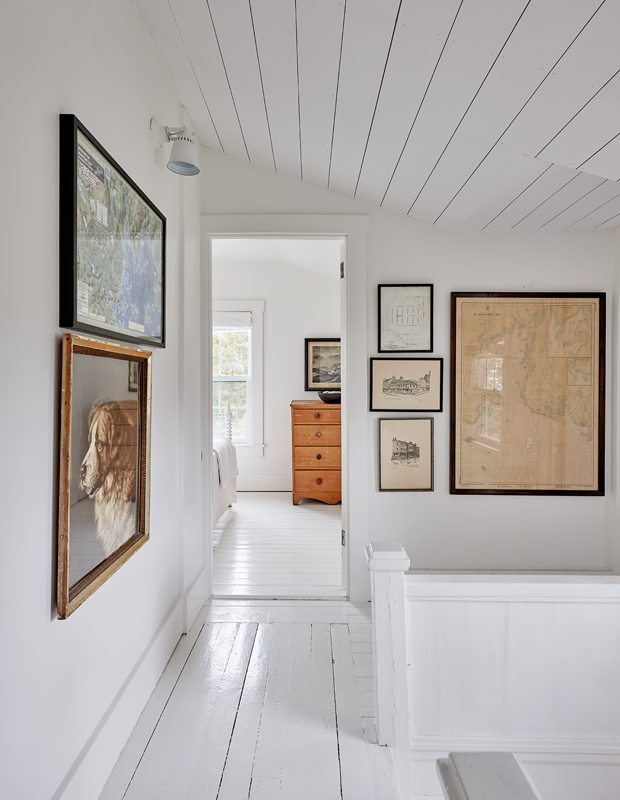 Photographer:
Janet Kimber
Source:
House & Home July/August 2021