Condos
January 22, 2021
This Curated Apartment Is Bursting With European Treasures
Impossibly juicy green tomatoes still on the vine tumble out of a wooden bowl on the kitchen island in Nathan Williams' apartment. "The last harvest before the cold," he says. When he moved into the west end Toronto rental with his partner, Nick Nemechek, the backyard was a pile of weeds. Now it's an urban gardener's paradise, producing plump produce, fragrant herbs and field flowers. Like most things these two creatives get their hands on, they took something many people would have overlooked and turned it into something many people would pay (handsomely) to have.
Nathan is currently the chief creative officer at Indigo, where he directs everything from window displays and marketing campaigns to product design; last fall, he launched Oui, his first collection of homewares for the book retailer. But he's best known as a co-founder of Kinfolk, the indie magazine he launched with a group of friends in 2011. An early champion of slow living, Kinfolk quickly established an obsessive following. Today, it's an influential lifestyle brand that authors bestselling books and curates a namesake gallery in Copenhagen.
The duo's move to Canada is something of a homecoming for Nathan, who grew up in Magrath, Alberta. But he had never visited Toronto. They found their apartment on Kijiji, and chose it because it shared some of the old charm they had appreciated in their previous homes, such as high ceilings, original floors and wood-burning fireplaces. Nathan and Nick slapped a fresh coat of paint on the walls and waited for the beautiful furniture they'd shipped across the ocean to arrive. "We attach a lot of emotional value to our objects," says Nick.
The apartment is a testament to how perfectly their tastes are aligned. Yet Nick laughs at the idea that they've decorated. "What's decorating? It's all about organizing," he says. Nathan admits he has a higher tolerance for stuff, which required some compromises. "It's not a mess; it's controlled chaos," he says as Nick eyes the stacks of magazines by the window. "I feel happy and inspired and calm with lots of stuff. Stylistically, it might not be the best, but it's how we live. It's functional for us."
Scroll down to tour their artfully curated apartment!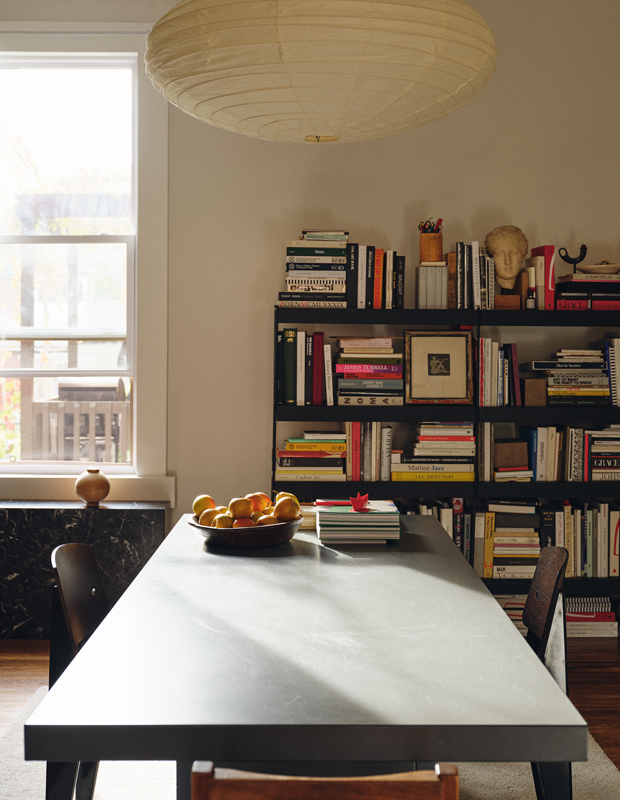 Photographer:
Michael Graydon & Nikole Herriott
Source:
House & Home January/February 2021