Condos
Visit A Glamorous Penthouse With Sweeping City Views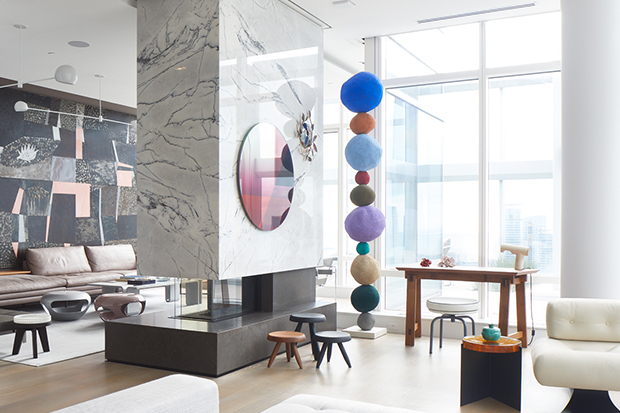 Stepping inside this Katherine Newman-designed interior, a duplex penthouse on the 65th floor of Toronto's tony Shangri-La Residences, is like entering the zero-gravity world of a brightly colored Kandinsky composition — all suspended orbs, triangles and crisscrossing linear elements. In keeping with art world naming conventions, let's call this project Composition No. 4, since it's the fourth time Katherine and her architect partner Peter Cebulak have collaborated with these clients. Their third project together was the couple's main residence in Oakville, Ontario, whose Regency Moderne kitchen was featured in the September issue of H&H.
This 5,000-square-foot, three-bedroom, four-bathroom penthouse, purchased to serve as a weekend pied-à-terre for the owners and their Toronto-based kids, is a radical departure from that style. To create a feeling of geometric rigour throughout the penthouse, Katherine turned to color. There's a gallery feel to the home, but it's not a plain white box: "They were looking for a nod to minimalism tempered with a certain element of warmth and interest," says Katherine. "Every job we take on is a departure; each project is its own expression."
Scroll down to see inside this artful residence!
Author:
Alison Garwood-Jones
Photographer:
Virginia Macdonald
Source:
House & Home December 2019
Designer:
Katherine Newman