Condos
October 7, 2019
This Pied-À-Terre Will Make You Want To Move To Paris
Almost every day Jackie Kai Ellis is at home in Paris, she slips into her clawfoot tub for a quiet afternoon soak. This is the sort of unhurried act of self-care that she really started to enjoy after she bought her two-bedroom apartment in the 10th arrondissement. During the preceding fast-paced years, Jackie had ended her marriage and her career as a graphic designer, battled through depression and learned the secrets of French pastry at Paris's École Gastronomique Bellouet Conseil. In 2012, she returned to her hometown of Vancouver and opened Beaucoup Bakery & Café, which quickly became known for making one of the best croissants in the city. Not long after, she wrote a memoir about those experiences, The Measure of My Powers, which received glowing reviews when it was published in 2018.
Along the way, Jackie decided she needed a rejuvenating getaway. "Originally, I was thinking this would be a small pied-à-terre; I wasn't thinking of making it my home," says the founder of APT La Fayette, an online platform which promotes simple, everyday beauty. "But I started investing a lot of my soul, for lack of a better word, into it. The more attention you pay something, the more precious it becomes to you."
Scroll down to tour Jackie's charming, 800-square-foot escape in the City of Lights.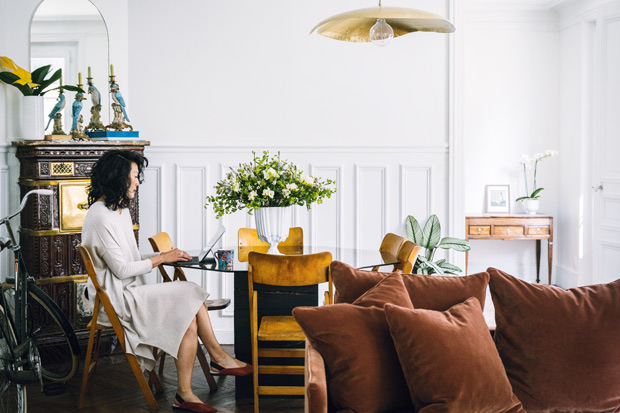 Source:
House & Home September 2019
Designer:
Jackie Kai Ellis