Decorating & Design
May 4, 2020
This Light & Bright Family Home Is Renovation Goals
Ryan Wilner and Dinah Weldon weren't exactly looking for a new house, but they did dream of living closer to their daughters' west end Montreal school. So, when they saw a sign go up in front of the most charming house on the block, it stopped them in their tracks. The two-storey 1947 brick home was long and lean with a storybook mansard roof. Inside, though, was another story: it had a good energy but was woefully dated. Ryan, who co-owns Renwil, a manufacturer and wholesaler of decorative accessories, and Dinah, who worked in e-commerce and is now at home with the kids, thought about taking on the overhaul of the 3,000-square-foot home themselves.
They called upon Leclair Decor, run by husband and wife team Melissa and Sacha Leclair, and lead designer Grace Doyle to capitalize on the home's ample light and create rooms with unique elements. Function was also top of mind. "We wanted it to be light and bright but also warm and comfortable — not too overdone," says Dinah. "Somewhere you can hang out and relax with friends," adds Ryan.
Scroll down to tour this cheerful family home!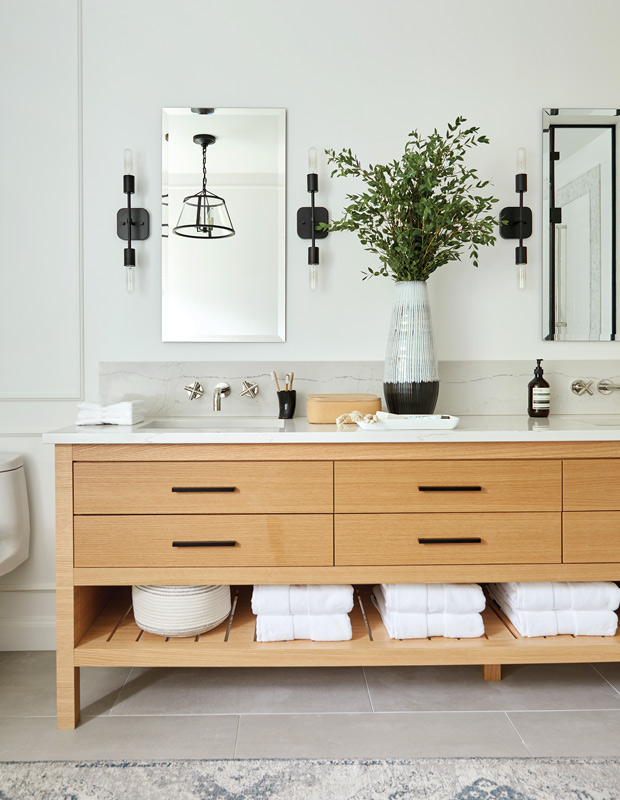 Author:
Catherine Sweeney
Photographer:
Maxime Desbiens
Source:
House & Home April 2020
Designer:
Grace Doyle, Melissa & Sacha Leclair, Leclair Decor