Recipe
March 18, 2020
Ask A Chef: Chicken-Fried Oyster Mushrooms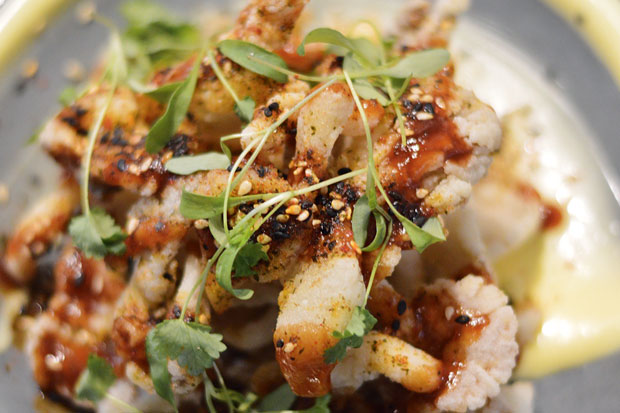 Prep Time: 50 minutes
Total Time: 60 minutes
Chef Hayden Johnston of Richmond Station in Toronto shares his recipe for Chicken-Fried Oyster Mushrooms.
Q: Sometimes you eat a restaurant dish that seems simple but tastes like there's so much more going on. I'd love to be able to recreate the Chicken-Fried Oyster Mushrooms served as a snack at Richmond Station in Toronto. Can you get the recipe? — Ross, Toronto
A: Hayden's recipe is all about making the simple sublime. He brines the mushrooms before coating and frying them, and makes the Kewpie-style mayonnaise, tonkatsu sauce and togarashi spice mix they're served with all from scratch for the best possible flavor!
Directions
Yield: Serves 4 to 6
Plan Ahead: Mushrooms need to be brined 24 hours ahead of cooking
Brine Mushrooms
Separate mushrooms and trim stem ends.
Heat water and salt in small pot over medium heat, stirring until salt is dissolved.
Transfer to medium bowl and add ice, lemon juice and thyme sprigs. When ice has melted and brine is cooled, pour into sealable bag, add mushrooms, squeeze out air and let sit in refrigerator for 24 hours.
Make Kewpie Mayo
In medium bowl, combine egg yolks, Dijon mustard, salt, MSG and rice wine vinegar, and whisk until uniform.
Add oil very slowly while whisking until totally emulsified, pale and thick. Refrigerate until ready to serve.
Make Tonkatsu Sauce
In pot over medium heat, combine ketchup, Worcestershire sauce, tamari, brown sugar, sherry, ginger and garlic, and bring to a simmer.
Turn heat down and simmer on low for 10 minutes, or until flavors have combined. Strain and refrigerate until ready to serve.
Make Togarashi Spice Mix
In small bowl, mix together sesame seeds, nori flakes, chili flakes and cayenne, and store in container with tight-fitting lid until needed.
Flour And Fry Mushrooms
In shallow bowl, combine rice flour, cornstarch, baking powder and salt, and stir with fork to blend.
In medium pot, heat two inches of oil over medium heat to 350°F, or use deep fryer.
Remove mushrooms from brine and, working in batches, dredge heavily in mushroom flour and fry for two minutes, or until golden brown. Place on paper towels to drain.
On plates, spread Kewpie Mayo and top with fried mushrooms. Drizzle with Tonkatsu Sauce, sprinkle with Togarashi Spice. Mix and garnish with cilantro seedlings.
Photographer:
Courtesy of Richmond Station
Source:
House & Home March 2020