Recipe
April 22, 2016
Chrissy Teigen's Skillet-Charred Fish Tacos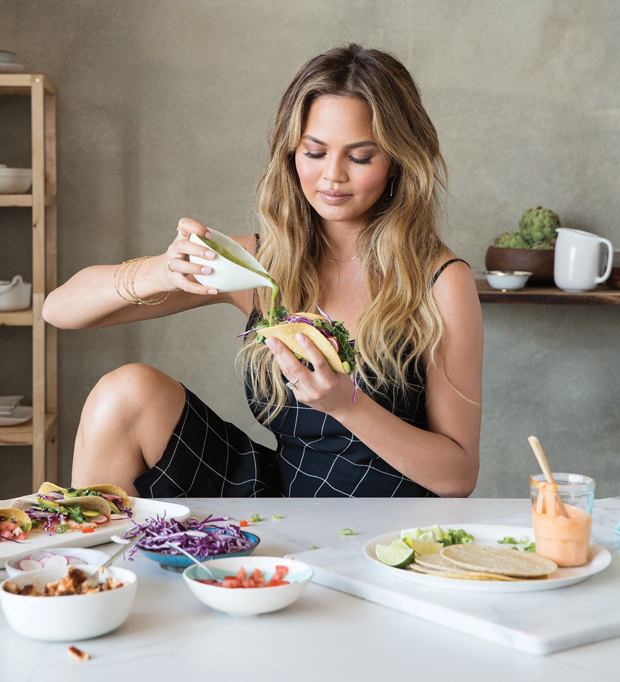 Directions
Yield: Serves 4 to 6
In a bowl, stir together the mayo and Sriracha until smooth.
In a bowl, combine the chili powder, garlic, salt, pepper, and 1 1/2 tablespoons of the oil. Rub the spice mixture all over the fish. heat a cast-iron skillet over medium-high heat. Add the remaining 1 1/2 tablespoons oil and when the oil just starts to smoke, add the fish in one layer and cook until slightly charred, 3 minutes per side. Remove from the heat, cool, and flake the fish.
Warm the tortillas, 2 by 2, in a dry skillet set over medium heat, flipping after a few seconds. Stack the hot tortillas to keep them warm.
Spread 1 tablespoon of the spicy mayo on each tortilla, then top with some fish. Top each taco with some cabbage, tomato, radish, and scallion. Then top each taco with avocado. Drizzle with some of Pepper's hot green pepper sauce. Garnish with cilantro and serve with lime wedges.
Photographer:
Aubrey Pick
Source:
Excerpted from Cravings by Chrissy Teigen. Recipes copyright © 2016 Chrissy Teigen. Photography copyright © 2016 Aubrie Pick. Published by Clarkson Potter, an imprint of the Crown Publishing Group, a division of Penguin Random House. Reproduced by arrangement with the Publisher. All rights reserved.