Recipe
Family Meal Chicken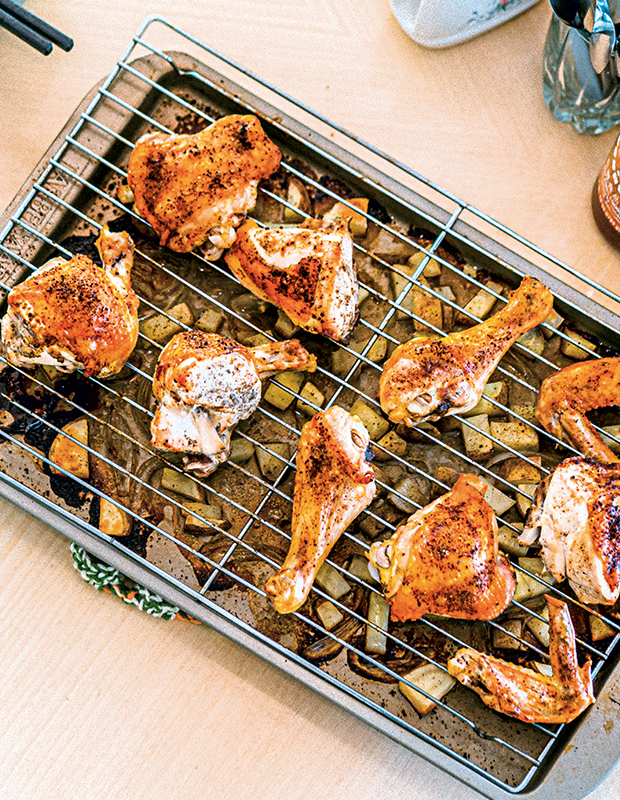 David Chang: At this moment in time, sheet-pan cooking is all the rage, and for good reason — it's one of the easiest ways to put dinner on the table. Priya informed me that there are already a ton of sheet-pan cookbooks out there, so it wasn't necessary for us to do a whole section on sheet-pan cooking. But I did want to share one recipe, which is not only the simplest chicken recipe of all time, but probably the meal that I've eaten the most times in my life. This is Family Meal Chicken, a straightforward dinner served to employees prior to service at countless restaurants. When I was a young cook, I lived on this dish. Why does it work so well? Because the chicken is cut up. By the time it gets brown and crispy on the outside, the insides are juicy and cooked, too. The wire rack is key, as it allows for even heat circulation. But trust me when I say that you can't mess up this recipe.
Directions
Yield: Serves 2 to 4
MAKE CHICKEN
David: Heat the oven to 500°F. Quarter a whole chicken (or just buy 2 or 3 pounds of precut parts), and arrange the pieces on top of a wire rack set over a sheet pan. Sprinkle with a generous amount of salt and pepper, and blast it in the oven for 30 to 40 minutes, until the chicken is cooked through and golden.
You can get industrious and place potatoes and chopped white or yellow onions on the bottom, which will catch the fat drippings while the chicken cooks. You can season the chicken pieces with lemon, rosemary and butter under the skin, or with a rub of your choice. Or not. This dish is so delicious even at its absolute simplest.
Priya Krishna: No offense to boiled chicken, but this is definitely the best chicken recipe in the whole book. I found the boiled chicken to be extremely unruly to deal with, splashing chicken juice all over my counter. But this recipe is a reminder of why there are so many sheet-pan cookbooks! The chicken gets so crispy and charred on the top, and the fat-coated veggies on the bottom are a must. I tried this with bone-in chicken thighs because I didn't want to cut up a whole chicken. I doused the pieces with rib rub from Buxton Hall Barbecue in Asheville, North Carolina. It was the most I've ever enjoyed cooking chicken and, best of all, there was very little to clean up. Maybe I'll boil a whole chicken if I'm having people over, but this is what I'm doing on a weeknight.
Photographer:
Horatio Baltz
Source:
Excerpted from Cooking at Home by David Chang and Priya Krishna. ©2021 David Chang. Photography by Horatio Baltz. Illustrations by Stanley Chow. Published by Clarkson Potter Publishers, an imprint of Random House, a division of Penguin Random House. New York. Reproduced by arrangement with the Publisher. All rights reserved.