Decorating & Design
July 12, 2021
Before & After: A Dated Victorian Home Gets A Radical Renovation
Design lighting doesn't often strike twice, but for Adam Jardine, a marketing exec at Loblaw, and his partner, Ryan Chang, a graphic designer–programmer, that's exactly what they hoped would happen when they bought their fixer-upper. The Victorian semi in Toronto's Leslieville neighborhood had great bones and the perfect location on a tree-lined avenue, but it hadn't been touched since the 1960s and was split into two apartments. Luckily, Adam and Ryan knew just the guy for the gut job. "Joel Bray was one of the first people we met as a couple more than 13 years ago," says Adam of the H&H alum. "We've followed Joel's work over the years and have always admired how effortlessly he blends old and new, high and low, and modern and vintage."
Shortly after sealing the real-estate deal, Adam and Ryan wasted no time in calling up their old friend. They had always loved the home that Joel shares with his partner, Andrew (featured in House & Home's April 2018 issue). "Even though he brought it down to the studs and totally rebuilt, everything felt like it could be original; it had character and felt timeless," says Adam. Over wine and renovation talk, Joel let it slip that he was starting his own firm. Adam and Ryan quickly raised their hands to be among the first Joel Bray Design clients.
"There were a lot of similarities between our respective places, as well as a few key elements that I used in my own home that the guys wanted to bring to their space," says Joel, who spearheaded the year-long overhaul that saw two units merged into one three-bedroom, two-and-a-half-bath home with a third-storey addition at the back. The industrial sliding glass door leading to the backyard and the bold black kitchen with brass hardware are a few of the elements borrowed from Joel's own home. "The truth is, I would never pitch something to a client that I wouldn't want in my own home, or that I think would have a short design shelf life," says Joel. Imitation really is the sincerest form of flattery.
Scroll down to see the dramatic before and after of this Victorian renovation!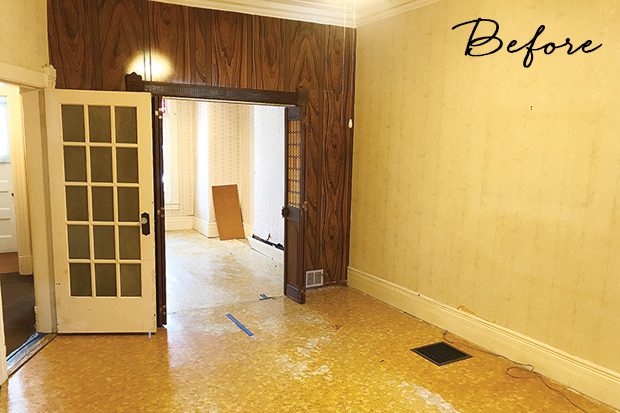 Photographer:
Valerie Wilcox
Source:
House & Home January/February 2021