Recipe
August 8, 2023
Simple Fruit Tart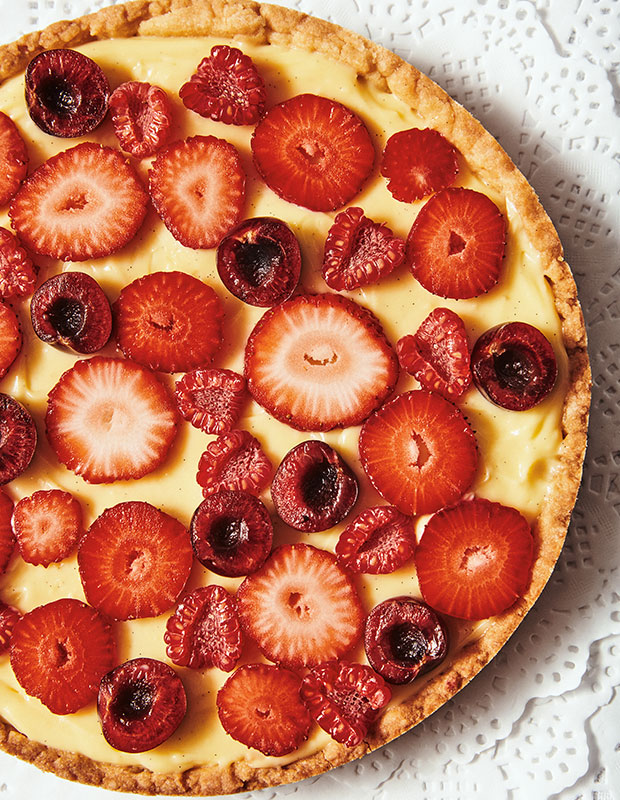 "I want people to be more flexible with desserts, and this tart teaches you how to make a good basic crust and vanilla pastry cream that you can use with other toppings." – Alison Roman
Directions
Yield: Makes 9-inch Tart
Make Pastry Cream
 

In medium pot, combine milk and 1/2 cup of sugar. If using vanilla bean, scrape seeds into milk, and then pod (if using vanilla extract, it goes in later). Bring to simmer over medium heat, but do not let boil. Once simmering, remove from heat. Strain out seeds and pod.
Meanwhile, in medium bowl, whisk remaining 1/2 cup of sugar with egg yolks, cornstarch, vanilla extract (if using) and salt.
Slowly pour hot milk mixture into egg yolk mixture while whisking, and whisk to blend. Do this until all milk has been incorporated. Mixture will be loose with starchy texture.
Return mixture to pot and place over medium heat. Whisk constantly, cooking until liquid goes from thin with many small bubbles, almost like a cappuccino, to thick and gelatinous with sporadic large bubbles, bubbling from great depths, 8 to 10 minutes. Remove from heat and whisk in butter.
Transfer pudding to shallow baking dish or bowl and place piece of plastic wrap or parchment paper directly on top (to prevent "skin"). Place in fridge and chill completely until ready to use. Cream can stay in fridge, covered tightly, for up to 5 days.
When ready to serve or use, transfer mixture to large bowl and whisk until it goes from thick and rubbery to creamy, luscious and smooth.
Make Crust
Preheat oven to 350°F. In medium bowl, combine flour, powdered sugar and salt. Using fingers, incorporate melted butter until you've got crumbly, Play-Doh-like textured dough. Resist urge to knead dough, as you don't want to develop any gluten (that's how crust shrinks on you).
Press dough into 9″ tart pan with removable bottom or 9″ springform pan, and use tines of fork or tip of knife to lightly prick top all over (to allow steam to escape as it bakes).
Bake until bottom of crust is golden brown and edges are the colour of a nicely golden shortbread cookie, 18 to 20 minutes (this tart doesn't get baked again, so this is your chance to fully bake through). Remove from oven and let cool completely.
Make Tart
Once tart shell is cooled, whisk pastry cream until smooth (it will look firm, lumpy, and cottage cheese–like at first). Spread into tart shell.
Top with fruit of your choosing. For simplest version, use lovely uncooked berries, preferably from same color family like strawberries, thinly sliced crosswise to expose circular core, whole or halved raspberries and red currants, if you can find them.
Refrigerate for about 60 minutes to set and chill before slicing.
Photographer:
Chris Bernabeo