Recipe
September 1, 2022
Sunchoke, Cauliflower & Leek Soup with Canadian Gremolata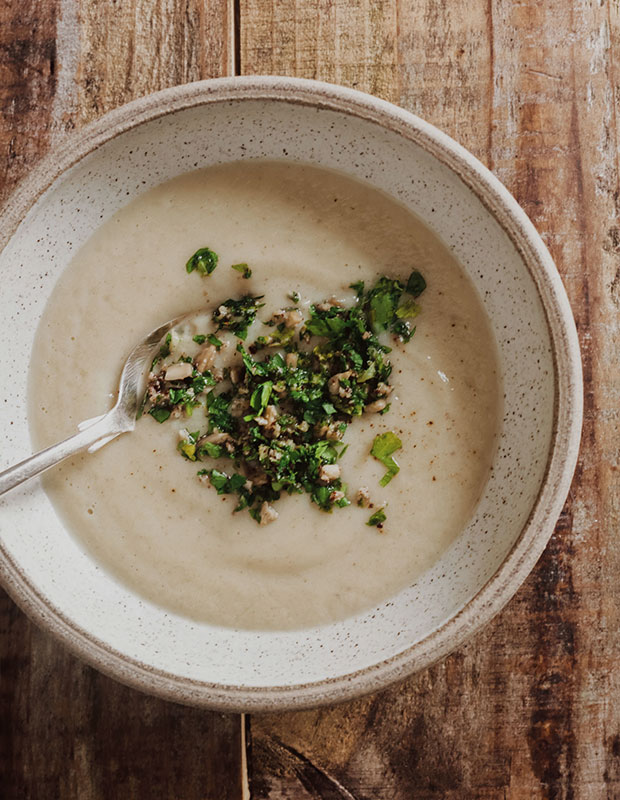 "If you are new to the sunchoke (also called a Jerusalem artichoke), you are in for a tender, slightly nutty treat. Sunchokes—very much like potatoes—are hardy tubers, fit for Ontario's cool climate, and they grow wild here throughout the fall and are available all winter. Simmering sunchokes with cauliflower in a pot over low heat allows for the vegetables to steam in their own liquid and turn into a silky cream not unlike a culinary version of cashmere. This zesty gremolata is a Canadian interpretation of a traditional Milanese spice mix. Instead of lemon, I used sumac—a berry with bright red cones that grows wild across Ontario. It can be harvested, dried, and blitzed into a wonderful spice on its own" – Deidre Buryk, cookbook author
Directions
Yield: Serve 4 to 6
Place the chopped leeks in a colander and wash thoroughly. Use your hands to inspect the leeks to ensure the dirt between the layers has been removed. Dry and set aside.
In a large pot over medium, melt the butter. Add the leeks and sauté until caramelized and translucent, about 10 minutes. Use a wooden spoon to stir often. Reduce the heat to medium-low and add the garlic. Stirring frequently, cook until fragrant, 2 to 3 minutes. Remove the sunchokes from the cold-water bath and add them and the cauliflower to the leeks and garlic. Season with salt. Stir and cook for another 2 to 3 minutes. Add the broth and increase the heat to high. Cover with a lid. Once the liquid reaches a boil, reduce the heat to a simmer. Add the bay leaves and parsley and let simmer until the vegetables are fork-tender, about 35 minutes.
While the soup is simmering, in a mortar, grind the sunflower seeds, sumac, thyme, and sea salt with a pestle. Add the garlic and continue to grind until a crunchy paste forms. Add the parsley and continue to stamp, press, and muddle into a minced paste. Set aside for serving.
Remove the pot from the heat, take out the bay leaves, and set the soup aside to cool for 5 to 10 minutes before blending. Use an immersion blender or transfer the soup to a good-quality blender to purée into a thick, creamy soup. Season with salt and pepper to taste. Garnish with 1 to 2 tablespoons of the gremolata, and serve.
Photographer:
Deirdre Buryk
Source:
Excerpted from Peak Season by Deirdre Buryk. Copyright © 2022 Deirdre Buryk. Photography © 2021  Deirdre Buryk and Janette Downie. Published by Appetite by Random House, a division of Penguin Random House Canada Limited. Reproduced by arrangement with the Publisher. All rights reserved.