Recipe
November 18, 2021
Jalapeño Mac And Cheese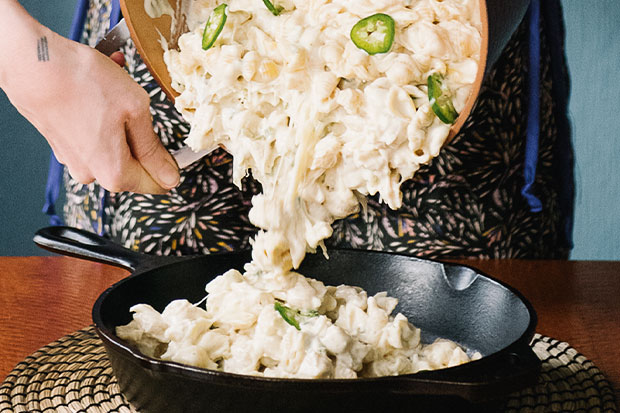 Try this Jalapeño Mac And Cheese from the new cookbook, Well Seasoned: A Year's Worth Of Delicious Recipes.
"Jalapeño Mac and Cheese has become a staple at our family celebrations, even Christmas. The spice of the jalapeño is mellowed in the cooking process but still provides enough of a zing to cut through the creamy sauce."
Directions
Yield: Serves 4
Pasta
Preheat oven to 425°F. Grease
8″- or 9″-sq. baking dish with cooking spray and set aside.
Set large pot of well-salted water to boil over high heat. When water has come to a rolling boil, add pasta and cook just until al dente. Drain pasta and set aside.
Jalapeño Cheese Sauce
In large pot, melt butter over medium- low heat. Add shallots and half of jalapeños, season with salt and pepper, and cook, stirring frequently, until shallots are translucent and just starting to turn golden brown, 3 to 4 minutes. Add garlic, evenly sprinkle flour over top, and turn heat up to medium.
Cook for 2 to 3 minutes, whisking frequently, to cook off raw garlic flavour and toast flour.
Very slowly start to add warmed milk, about a 1⁄4 cup at a time, whisking constantly in order to avoid lumps. After first couple of additions, mixture will most likely look clumpy but just keep whisking and slowly adding milk. Lumps will cook out.
When all milk is added, stir in Dijon and bring mixture to simmer for 4 to 5 minutes, just to thicken.
Whisk in cream cheese and slowly begin to add Jack, cheddar, and Parmigiano-Reggiano. Whisk until cheeses are fully melted and sauce is thick and creamy.
Turn heat down to low and, switching to large spoon or heatproof spatula, fold in remaining fresh jalapeños along with pickled jalapeños and cooked pasta. Season with more salt and pepper.
Transfer Mac and Cheese to prepared baking dish and set aside.
Make topping, bake and serve
In small bowl, make topping by whisking egg and milk together. Add bread, cheese and salt, and stir until well combined. Spread this mixture over Mac and Cheese and bake until golden and bubbling, 20 to 25 minutes.
Photographer:
Photography ©2021 Lauren Vandenbrook
Source:
Well Seasoned, by Mary Berg. ©2021 Mary Berg. Published by Appetite by Random House, a division of Penguin Random House Canada Limited. Reproduced by arrangement with the Publisher. All rights reserved.