Decorating & Design
April 6, 2021
Step Inside A Georgian-Style Home With Classic & Contemporary Details
Who says traditional design is stuck in the past? Not Toronto designer Lindsay Mens Craig. In this gracious Georgian-style house for a family of three, rich colors and mixed materials turn up the volume "The house has classic elements, in terms of the trim profiles and molding details," says Lindsay, a partner at TOM Interior Design Studio, who designed the space for her former firm, Sarah Richardson Design, with assistance from Kelsey Eurig. "But I wanted to strike that balance between classic and contemporary."
She met the homeowners, Shannon Curé and Frank Ieraci — she's in fashion, he's in finance — five years ago. "They're young and fun, so I didn't want the house to feel serious," she says of the couple, who are in their early 40s and have a seven-year-old daughter, Victoria. "Shannon is quite stylish; I didn't want the inside to be too stuffy."
At the time, the family felt squeezed out of their 1,200-square-foot house. A hunt for new digs led them to Etobicoke, in Toronto's west end, where they tore down a tired side-split to make room for a new house. Tucked deep into the lot beneath towering trees, the 5,000-square-foot brick home is classic Georgian, but cheeky details, like the soaring windows, look fresh.
Such drama required a special eye, which is why Lindsay was on the scene from almost day one, devising the layout, plotting the electrical plan and making overall decorating choices to ensure the house felt lived-in and inviting. "It seems a lot easier to put a design together than what's actually involved," says Shannon. "But it takes an eye like Lindsay's to pull rooms together so beautifully. Her skill of mixing old with new is something I've admired from the beginning."
Scroll down to see more of this charming traditional home!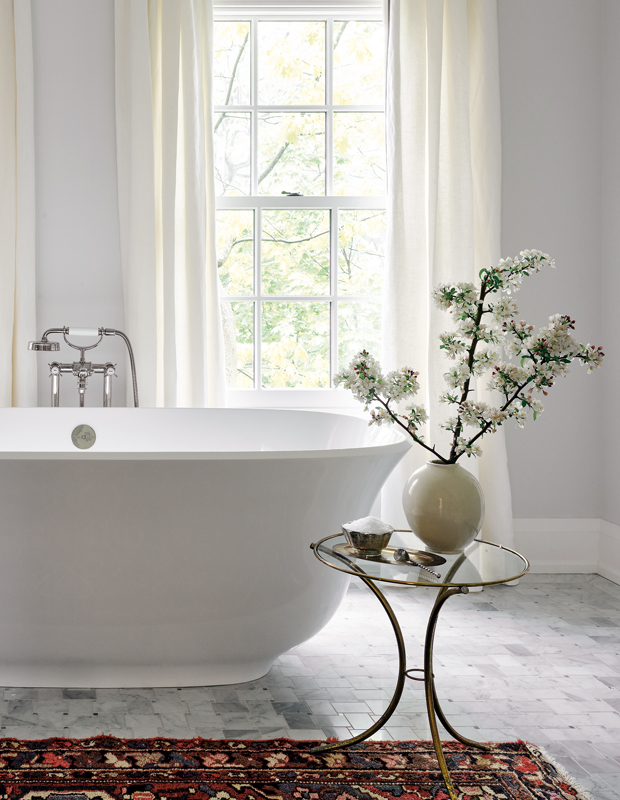 Photographer:
Patrick Biller
Source:
House & Home March 2021
Designer:
Lindsay Mens Craig; Architecture by David Small Designs